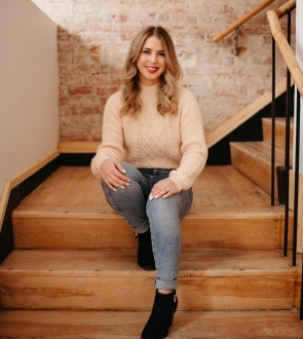 Kaitlynn Brodie
Sales Representative
Simcoe Hills Real Estate Inc. Brokerage
I am a customer-service-oriented real estate agent who helps home buyers and sellers in and around Orillia, Ontario. If you're looking for an agent with patience, perseverance, and a passion for helping people, you have just found her! You have a lot of agents to choose from, when buying or selling a home. So why choose me? Here are some things that set me apart:

Service: "Customer service" is more than a catchphrase to me -- it's a way of doing business. I strive to exceed my clients' expectations in all aspects of the real estate process, and to "wow" them with my service-oriented approach. Coaching: Success in real estate starts with education. You have to understand the nuances of the local market, the dynamics of supply and demand, and how these things affect you as a buyer or seller. If you work with me, I'll make sure you are well informed at every step of the process, so you can make smart decisions. You deserve nothing less.

Contact: You'll have a lot of questions during your real estate transaction. Everyone does. And you deserve to know what is happening at all times, and what needs to happen in order to reach the finish line. If you choose me as your real estate agent, you'll enjoy constant interaction and communication. You'll always be in the know.

Home Staging: I have a real passion for interior design, and I know how to optimize your space to maximize its selling potential. My goal is to make a property show beautifully when it goes on the market. I want prospective buyers to walk away from your property and say, 'I could live there!

Marketing: I provide a comprehensive digital marketing strategy to sell your home. MY approach includes targeted Facebook and Instagram advertising, email marketing, content marketing, and personalized 1-to-1 outreach to reach the right buyer.

A Smoother, Less Stressful Real Estate Experience: Buying or selling a home can be exciting. But it can also be stressful. It's particularly stressful for first-timers and those who have a short timeline. I know this firsthand, because I've been there myself. That's why I work extra hard to keep my clients informed, and to make the process as smooth as possible.

When I'm not helping my clients, I enjoy spending time outdoors in the beautiful village of Washago with my little family, camping and playing with my fox red Lab cedar. Previous to Real Estate, I worked for a pipeline company installing residential gas lines. I am not afraid to get dirty, this is important when inspecting properties and doing light Renos to maximize selling potential. If you have any questions about my real estate services, or what I can do to help you, please don't hesitate to ask. I look forward to hearing from you!